Pricing Table
Below are the prices Per Seat License / Per Build Server License, exclusive of VAT and handling costs.
The correct total amount for the number of seats you purchase is calculated automatically on the Bluesnap order page.
The exact US$ price can vary slightly due to currency fluctuations Euros/US$.
Number of seats
Developer Edition
Price per Seat
Build Machine Edition
Price per Seat
Euros
US$
Euros
US$
1 to 2
€ 399
US$ 465
€ 799
US$ 933
3 to 5
€ 379
US$ 442
€ 759
US$ 886
6 to 10
€ 359
US$ 419
€ 719
US$ 839
11 to 20
€ 339
US$ 395
€ 679
US$ 793
More than 20
€ 319
US$ 372
€ 639
US$ 746
There are no
additional
or
hidden
costs. Updates within a version are free, as is our fast support.
Contact us at
[email protected]
if you wish an
Enterprise/Site license
.
FAQ
What is the difference between Developer and Build Machine editions?
NDepend v2017.3.2 for Developer

NDepend for Developer is dedicated to developers that use NDepend interactive UI from:

NDepend 100% integrated in Visual Studio 2017, 2015, 2013, 2012 and 2010
or throught the VisualNDepend.exe standalone executable.

Each machine on which NDepend for Developer is activated, counts as a license seat.

NDepend v2017.3.2 for Build Machine

NDepend for Build Machine is dedicated to build servers and Continuous Integration (CI) servers that integrate NDepend analysis into their build processes and produce NDepend reports.

Each physical machine, each virtual machine (VM), each agent, on which NDepend for Build Machine is activated, counts as a license seat.
Feature matrix between Developer and Build-Machine editions
Developer Edition
Build Machine Edition
Analysis of any Visual Studio project and any .NET assembly
Facilities to Create and Customize NDepend Project
Dashboard
Smart Technical Debt Estimation
Quality Gate
Comparison against a Baseline
Import of Test Coverage Data
from NCover, dotCover or Visual Studio Coverage
Default and Custom:
Code Rules
Trend Metrics and Trend Charts
Quality Gates
Automatic Report (HTML + javascript) Production through NDepend.Console.exe
Integration into the Build Process. Integration with TFS 2013, SonarQube, TeamCity. For VSTS and TFS 2017 extensions special licensing is required. Please contact us at

[email protected]

Build Failure on Quality Gate Violation
Warnings about the Health of the Build Process
Integration in Visual Studio 2017, 2015, 2013, 2012 and 2010
Interactive UI: Dependency Graph
Interactive UI: Dependency Matrix
Interactive UI: Metrics Visualization through Treemaping
Collaboration with Red-Gate.NET Reflector to disassemble
Usage of Power Tools and NDepend.API
(except Running an Analysis)
Running an Analysis from Power Tools and NDepend.API
Which payment methods are accepted?
Since February 2007, we rely on Bluesnap to host our secure online store.
Thousands of transactions have been processed without any particular problem and zero security issue.
With Bluesnap, we can accept Mastercard, Eurocard, VISA, Delta, JCB, Switch, Solo, Discover, American Express, Diner's Club, UK cheque, US check, Postcheque, International Money Order and Bank wire.

Your credit card data will only be saved on the server of the payment provider, which ensures a secure transaction.
Should you have any difficulties with ordering, please contact us at [email protected]
We can always arrange for you to purchase directly from us.
How to pay by Purchase Order?
You can buy with a Purchase Order with up to Net 30 terms.

To order with a Purchase Order make sure to address it to BlueSnap the company that hosts our secure online store.
BlueSnap, Inc. 
800 South St #640, 
Waltham, MA 02453, 
USA
On the Bluesnap order page, you'll be able to choose Purchase Order for the Method of payment.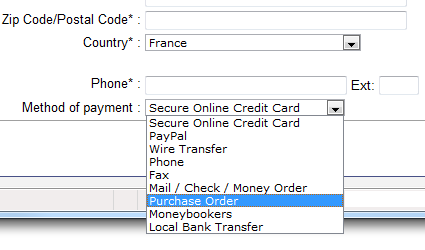 When to expect my license(s)?
After your order is complete, you will receive two separate e-mails:
A confirmation email from Bluesnap, sent a few minutes after you placed your order.
A license email with your license key.

The license email is sent from a few minutes to a few hours after you place your order, the time it takes to validate the payment information.
Note: To avoid delay, please verify that the anti-spam of your email address(es) provided during the ordering process will accept our license email.
The license email is sent from [email protected] with the subject NDepend Developer Professional License or NDepend Build Machine Professional License with your license key and instructions on how to download, install and register the product.
What if I am not allowed to pay online?
If your company policy doesn't support online payment, you can still pay through bank wire transfer. To do so, please contact us at [email protected]
If possible, it is strongly recommended to pay through our Bluesnap online secure store Because:
Bluesnap processes most transactions in just an hour or less.
Your license mail will be sent automatically as soon as the transaction has been processed by Bluesnap.
Bluesnap will process automatically invoicing.
On the other hand:
Paying through bank wire transfer will take around 5 business days until we receive your payment on our company bank account and emit your NDepend professional license(s).
Your engineers will have to wait this delay before using NDepend.
Licensing and invoicing will be processed manually.
How to order as a Reseller?
If you are a reseller and wish to purchase NDepend licensing for a customer, please send an e-mail to [email protected] for more information on how to proceed.
If the customer wishes one or several license upgrade(s), before contacting us, please make sure the customer provided you with the license key(s) to upgrade.
Then we'll explain you how to upgrade each license key.
If the customer cannot find the license key(s) to upgrade, tell him/her that:
NDepend license key is made of 9 characters in the range 0-9 and A-Z (case sensitive). The license key can be found in any of these locations:
VisualNDepend > Help menu > About NDepend > 'The product is licensed to'
VisualStudio > NDepend menu > Help menu > About NDepend > 'The product is licensed to'
In the content of the file $NDependInstallDir$\NDependProLicense.xml, content of the first XML element <LicenseId>012345678</LicenseId>
The license email that you received when you purchased NDepend.